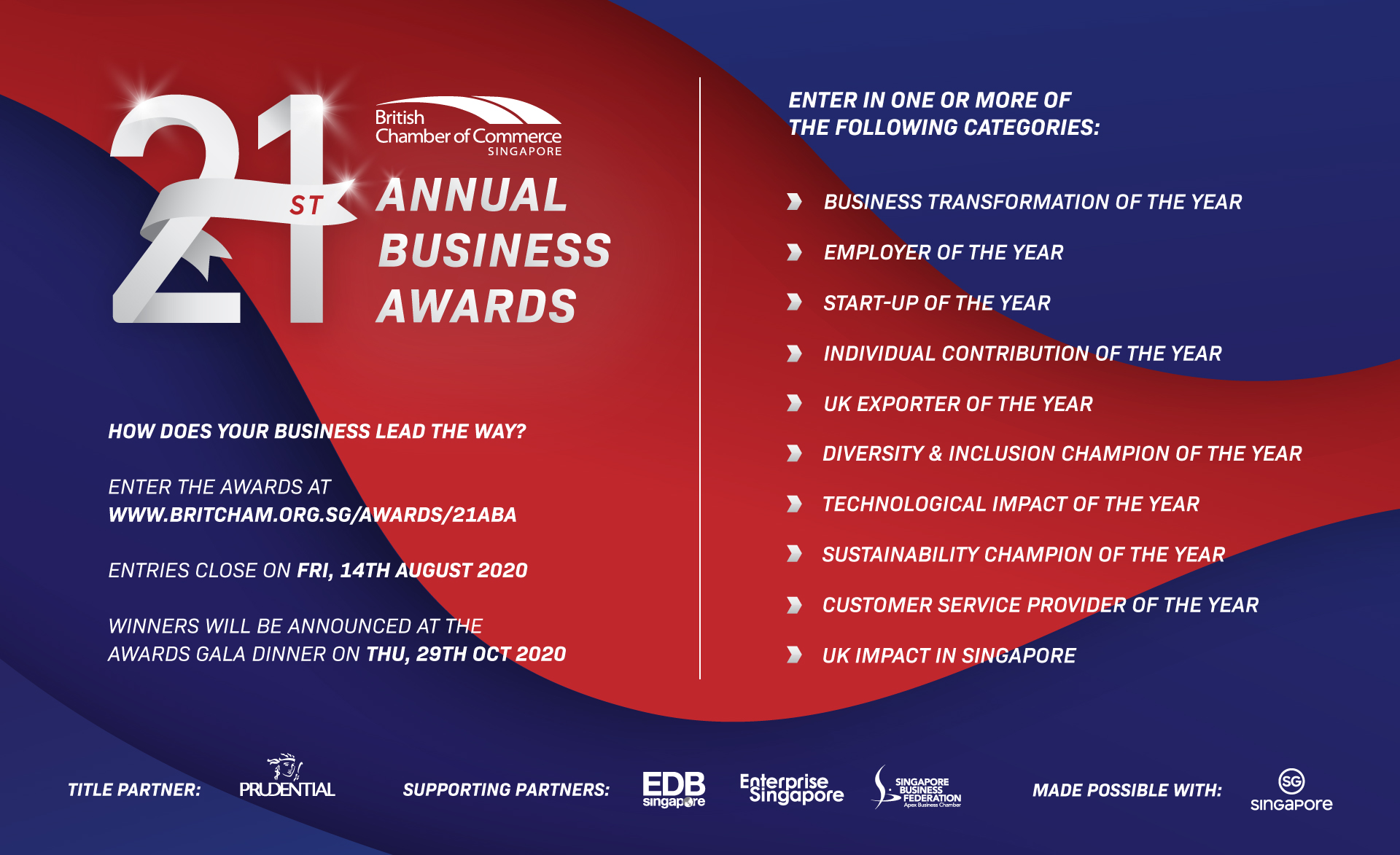 How does your business lead the way? As the longest-running awards initiative by an international Chamber in Singapore, we have been showcasing excellence at our Annual Business Awards for the past 21 years. We encourage all Singapore-registered organisations to take this opportunity to tell your good news story and focus on the positive achievements of your teams.

Entries open Thursday 9th April and close at the end of the day on Friday 14th August.
It's as simple as 1... 2... 3...

Fill in the simple form below for each category you want to enter
Upload a one-pager providing any relevant further information to your category entry
Press submit!
Be concise and make an impression to stand out to our judges. You can also add a video link, though it's not mandatory. Any additional documents beyond the one-page supporting your entry will not be considered. For more information on the awards please open the tabs below which provide detail on the Categories, the Rules for entry, answer your FAQs, and outline the Judging Process.

Important Notes:
If you choose to enter more than one category, please make sure to tailor your category entry to what the judges are looking for in each - avoid using the same content;
You must be a Singapore registered enterprise to submit an entry to any category (or the employee of one for those entering the Individual Contribution category) but you do not have to be a member of the Chamber;
By submitting an entry, companies should prepare to be present at the Gala Awards Dinner which will take place on 29th October this year (subject to COVID-19 change). Tickets will be made available for finalists at a special discounted price.
All are welcome to join us at the Gala Awards Dinner for the British Chamber's big night out for business. Further details of this event, our Judges and the Guest(s) of Honor will be announced at a later date.
We are delighted to be joined in our awards campaign by Title Partner Prudential, Category Partners Barclays and Jardine Cycle & Carriage, and Supporting Partners the Singapore Economic Development Board, Enterprise Singapore and Singapore Business Federation. With special thanks to our Video Partner AsiaWorks. Opportunities are available to partner with us on categories and photography, please get in touch with lucy@britcham.org.sg to learn more.

Please refer to the below descriptions of each category. You may enter more than one category, please complete a new entry form each time and make sure to provide a unique entry with relevant supporting information.

Business Transformation of the Year
Awarded to an exceptional business that can showcase excellence in growth, technology and innovation, changing systems and processes as well as market leadership in its sector.

Employer of the Year
Awarded to an organisation leading the way in supporting the opportunities, development and wellbeing of their employees with fair employment practices and a well-communicated and developed business culture.

Start-up of the Year
Awarded to an outstanding start-up business that can showcase excellence in innovation, an outstanding record of growth and profit performance beyond their initial projections. Businesses must have been registered in Singapore within the past 5 years (by 6 April 2020).

Individual Contribution of the Year
Awarded to a remarkable individual showcasing their achievements in the workplace or in a personal capacity over the past 12 months.

UK Exporter of the Year
Awarded to a UK business with expanded operations in Singapore/ASEAN within the past 3 years (by 6 April 2020). Applicants must provide evidence of export developments and how these exports have aided their business plans. Businesses must be headquartered in the UK with a Singapore-registered entity.

Diversity & Inclusion Champion of the Year
Awarded to an organisation with exceptional practices and contributions towards improving diversity and inclusion in their industry. Applicants should demonstrate their long term commitment to equality and showcase significant progress in creating an inclusive workplace whilst pushing the diversity and inclusion agenda forward.

Technological Impact of the Year
Awarded to an organisation who has developed an excellent application of technology, as well as the impact of technology on their industry and clients. Applicants should demonstrate next-level innovation and a breakthrough solution with significant market impact.

Sustainability Champion of the Year
Awarded to a business showcasing exceptional sustainable and green business strategies that not only conform to legal standards of best practice and governance but also contribute to and invest in the community in which they operate and the wider Sustainable Development Goals.

Customer Service Provider of the Year
Awarded to a business that exudes exceptional customer service skills. This award also recognises companies that provide excellent customer experience by putting the customer at the heart of its business. Applicants should provide evidence of customer experience strategies that have benefited both the business and their customers with measurable results.

UK Impact in Singapore (features live voting at the Gala Awards Dinner)
Awarded to an organisation representing the important relationship between the UK and Singapore. Judges will be looking for UK organisations who have made an impact on Singapore's economy and society, contributing to the strengthening of the UK-SG partnership. This category will feature live voting by the audience during the Gala Awards Dinner evening.
Please familiarise yourself with the following rules before submitting your entry:
The Annual Business Awards are open to any business with a registered office in Singapore
Companies from any sector and of any size may enter. The British Chamber of Commerce awards consider companies of all sizes on a level playing field
All shortlisted finalists are expected to be represented at the Gala Awards Dinner with a minimum of 5 tickets. Discounted tickets for finalists will be available. Companies based in the UK may liaise with our team on alternatives such as a recorded video message should their entry be a winner.
Entering more than one category is allowed, provided you meet the category criteria and submit a unique entry
All entries will be automatically acknowledged
Entries submitted after the closing date deadline will not be accepted unless previously agreed with the organisers as an exceptional circumstance
Following the closing date, your application(s) will undergo an eligibility check and be scored against a set of benchmarking standards for shortlisting purposes
In each category, no more than 5 entrants can be shortlisted as a finalist
All shortlisted and unsuccessful entrants will be informed. The shortlist will be published via the British Chamber of Commerce communication channels
Shortlisted finalists in the UK Impact in Singapore category must make themselves available on request for a professional video to be filmed at their location for the purposes of live voting at the Gala Awards Dinner. Any such video will remain the property of the British Chamber of Commerce and can be used in relation to the awards marketing campaign and awards ceremony production
Judgement of the winning entrants will be based on the quality of the entry against the category criteria as outlined. An entrant's previous track record in the awards, whether successful or not, will have no relevance on the outcome of the decision. The judge's decision is final.
All details provided in entries including videos will be treated as confidential for shortlisting and judging purposes, and will not be disclosed to any outside party, with the exception of professional videos created for the UK Impact in Singapore category, as outlined above
Winners will be announced at the Gala Awards Dinner
Award winners and shortlisted finalists will be issued with official branding which may be used in promotional collateral
All businesses are encouraged to attend the awards ceremony regardless of any status in the competition
Cancellations for tickets to the Gala Awards Dinner must be received in writing no later than 1 month prior to the event, after which refunds will not be considered due to costs incurred by the venue
Attendees to the Gala Awards Dinner may transfer their ticket to a colleague from the same company by notifying events@britcham.org.sg no later than 2 weeks prior to the event, including details of any special food requirements or accessibility requirements
Special food requirements should be noted on the awards ceremony registration form at the point of booking or notified to events@britcham.org.sg no later than 2 weeks prior to the event
What are the Annual Business Awards?

Open to all, The British Chamber of Commerce Annual Business Awards welcome applications from all business and sectors, regardless of size and industry, in a celebration of business excellence and high levels of achievement.

How do I enter and what do I need to include?

To enter, you will need to complete the entry form and submit a one-page summary showcasing how you are impacting positive impacts in that specific category. You may provide a link to a video in addition, though this is not mandatory. Submissions must be made on the British Chamber of Commerce website.

If you are entering the UK Impact in Singapore category, please note that shortlisted finalists must make themselves available for a professional video to be filmed in their location to be used for live voting at the Gala Awards Dinner.

Can I enter more than one category?

You can enter as many categories as you wish, providing you meet the set category criteria and provide a unique entry relevant to each one.

Will entries be treated confidentially?

All entries and information submitted to the Annual Business Awards are treated in the strictest of confidence and viewed only by the shortlisting committee and judges. Professional videos created for shortlisted finalists of the UK Impact in Singapore category will be made visible to the public at the awards ceremony and may form part of the British Chamber's marketing campaign(s).

Where do I send my entry?

All entries must be submitted online.

Is there a fee to enter the awards?

Entering the Annual Business Awards is free of charge. If selected as a finalist you will be asked to purchase a minimum of 5 tickets for the Gala Awards Dinner.

Can I attend the Gala Awards Dinner even if I do not enter or I am not shortlisted as a finalist?

Of course, we encourage all to attend and celebrate the achievements in business excellence.

What can I expect at the Gala Awards Dinner?

The Annual Business Awards ceremony is a night to remember, regardless if you have entered or not. Your colleagues and clients will enjoy the best in hospitality, cuisine and event production with opportunities for you to get involved in live voting on the night in the category of UK Impact in Singapore. A senior Singapore Government Minister will be invited to join the evening as our Guest of Honour.

How can I keep up to date with the latest Annual Business Awards news?

Look out for updates on the British Chamber of Commerce website, newsletters and on our social media channels.

Who should I contact with any questions?

You can contact us via email to helen@britcham.org.sg.
Our Annual Business Awards judges are at the height of their industry to ensure our winners are the best in class. The British Chamber of Commerce maintains a formal judging process as below.
Entries
The Annual Business Awards opens for entries on 9th April 2020 and closes on 14th August 2020 when the judging process begins. All entries are eligibility checked to ensure they meet the required criteria of their category before being benchmarked for shortlisting.
Shortlisting
Our Annual Business Awards shortlisting committee consider all entries against the criteria of each category and independently judge each entry on a scoring basis. The highest scoring entries will be shortlisted as finalists in their category. Up to 5 companies may be shortlisted in each category.
Winner Selection
Our expert judges consider all shortlisted entries and make their final winner selection in each category with the exception of the UK Impact in Singapore category, which will be voted for by the audience at the Gala Awards Dinner. The judge's decision is final.