15% off at Osteria BBR by Alain Ducasse, Raffles Hotel Singapore
15% off at Osteria BBR by Alain Ducasse, Raffles Hotel Singapore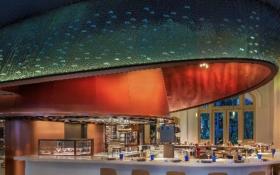 Osteria BBR by Alain Ducasse, Raffles Hotel Singapore

BritCham members enjoy a 15% discount on the total bill at Osteria BBR by Alain Ducasse at Raffles Hotel Singapore (Sunday Brunch inclusive; not applicable for set menus).
About Osteria BBR by Alain Ducasse
For more than 25 years, Alain Ducasse has worked to express the myriad of flavours from Continental Europe, especially Italy, by combining the regional traditions of this land with gastronomic expertise that convey a tangible sense of terroir while supporting indigenous artisans. The seasonal produce, climate and warmth of the Italian people embody the imaginative 'art de vivre' so dear to Alain Ducasse. With a passion he has cultivated for the Italian Riviera, originating from Nice where his memory of taste began, all the way to the coast of Genoa where his discoveries and gourmet memories have inspired him. Through exploring the lively markets and partaking in local conversations, Alain Ducasse has experienced the quintessence of aromas, tastes and the beauty of the Italian culture encompassed in his recipes and his ways of doing things.
How to Redeem
To redeem, make a reservation via a corporate email address to singapore@raffles.com and mention "BRITISH CHAMBER OF COMMERCE, SINGAPORE".
Terms & Conditions
• Reservations are subject to availability.
• Discounts are not applicable with other promotional discounts or offers, on Eve of Public Holidays, Public Holidays, festive occasions and black-out dates from 14 to 17 September 2023.
• Staff identification card / Company Business Card / E-Membership card must be presented upon payment for verification.
• Offers are valid till 22 December 2023 unless otherwise stated.