Enjoy up to 25% off Best Available Rates on Suites at Raffles Hotel Singapore
Enjoy up to 25% off Best Available Rates on Suites at Raffles Hotel Singapore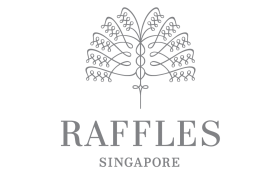 CORPORATE LIFESTYLE PRIVILEGES FOR MEMBERS OF BRITISH CHAMBER OF COMMERCE, SINGAPORE
As one of Singapore's most iconic destinations, the restored Raffles Hotel Singapore offers distinctive experiences that are representative of the city of Singapore. Immerse in the colonial architecture set amidst our oasis of tropical gardens as Raffles Hotel Singapore presents award-winning dining, wellness and lifestyle experiences that include shopping and wellness programmes.

With a variety of privileges across our dining venues, suites, Raffles Spa and Raffles Boutique, we invite you to create unforgettable memories at the Grande Dame.
Delight in a luxuriously spacious Suite - Enjoy up to 25% off our best available rates!
Suite categories
State Room Suites (721 sqft / 67 sqm)
Housed in the Bras Basah wing, one of the most historic sections of Raffles Hotel Singapore, the State Room Suites have two separate entrances – one leading to the parlour, the other to your sumptuous bedroom. Each spacious suite offers convenient access to the delightful boutiques in Raffles Arcade. Available with a king bed or two queen beds, your suite also features a verandah that overlooks Fern Court.

Courtyard Suites (624 sqft / 58 sqm)
Clustered around the heart of the hotel, all 31 Courtyard Suites provide direct and easy access to the Main Building and many of Raffles' iconic facilities. Indulge at Raffles Spa, shop at Raffles Arcade, and then come back to your own personal oasis. Step from your parlour to the verandah to admire lush gardens lined with leafy ferns – for a sense of serenity, sheltered from the tropical heat. A king bed or two queen beds await you in your beautiful bedroom.

Palm Court Suites (753 sqft / 70 sqm)
True to their name, these 35 suites overlook the verdant Palm Court, a hidden gem at Raffles Singapore reserved exclusively for our guests. Located next to the Main Building in the historic Palm Court wing, each of these superb 5-star suites is an oasis of peace and serenity. Breakfast on the verandah, cocktails in the parlour… Relax and take in the beauty of your urban sanctuary. Bedrooms have either one king bed or two queen beds.

Personality Suites (624–850 sqft / 58–79 sqm)
The 12 Personality Suites are a tribute to renowned guests who have visited Raffles over the last century. Featuring unique memorabilia related to each legendary name in the parlour and bedroom, these suites come with either a king bed or two queen beds.

Residence Suites (1,291–1,614 sqft / 120–150 sqm)
Located in the Raffles Arcade, these five Residence Suites feature either one or two bedrooms and enjoy private access. Ideal for guests who seek large spaces during their stay in Singapore, each suite comes with a living and dining area, a pantry, an intimate office space, powder room and bedroom. These comfortable homes-away-from-home are named after famous local cinemas from the early to mid-1900s – a tribute to the days when the hotel's neighbourhood was known as "The Place of Cinemas".
Promenade Suites (914 sqft / 85 sqm)
A nostalgic tribute to the late 1800s when Raffles faced Singapore's beachfront, our two Promenade Suites are nestled intimately in the front-most corner of the Main Building, overlooking Beach Road. Each suite is named after a prominent female figure of her time in Singapore and features a parlour, dressing room and luxurious bedroom with a king bed.
Grand Hotel Suites (1,615 sqft / 150 sqm)
A distinguished travel writer once said, "A Grand Hotel is a Pandora's box of sweet dreams." Capturing this and so much more, the four Grand Hotel Suites at Raffles evoke all the romance of voyages to unknown lands. Each takes pride of place in the Main Building, and features one or two bedrooms, a spacious living and dining area, a walk-in wardrobe and a private verandah.
Presidential Suites (2,798 sqft / 260 sqm)
Named for the most illustrious personalities of the Raffles story, the pair of Presidential Suites are the grandest hotel suites in Singapore. The Sarkies and Sir Stamford Raffles suites are located in the Main Building, overlooking the tranquil Palm Court and our legendary porte-cochère. Architecturally stunning, each comes with its own private verandah. The vast spaces – from the living room to the dining room and the bedrooms – are bedecked with carefully curated antiques and artworks. Functional areas include a walk-in wardrobe and your own personal pantry.
Terms & Conditions
Discounts & privileges are not applicable with other promotions discounts or offers
Prior reservation must be made for all experiences (Suite reservation, Dining or Spa) via email to singapore@raffles.com and quote "British Chamber of Commerce Singapore"
Reservation is subject to availability
Not applicable on Eve of Public Holidays, Public Holidays, Special Holidays and Black-out dates 14-17 Sep 2023
BritCham e-Membership card must be presented for verification upon billing
Offers are valid till 22 December 2023 unless otherwise stated
Rates quoted are subject to 10% service charge and 8% GST