15% off at Tiffin Room, Raffles Hotel Singapore
15% off at Tiffin Room, Raffles Hotel Singapore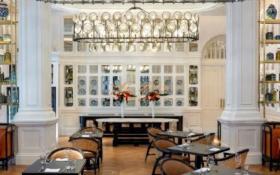 Tiffin Room, Raffles Hotel Singapore

BritCham members enjoy a 15% discount on the total bill at Tiffin Room, Raffles Hotel Singapore.
About Tiffin Room
A part of Raffles Singapore's history since 1892, Tiffin Room continues to celebrate the heritage and flavours of North India. The restaurant offers an evocative dining journey across the North Indian palate, from Rajasthan to Punjab to Lucknow through a refreshed lunch and a la carte dinner. The restored interior décor of the restaurant includes reinstating the wooden floorboards in Tiffin Room to bring back features from the early 1900s based on research by our heritage consultants. Intricately patterned wood and mirror wall panelling add richness and create a signature visual language while colourful displays of Tiffin boxes are imbued with historical notes but modern in feel.
How to Redeem
To redeem, make a reservation via a corporate email address to singapore@raffles.com and mention "BRITISH CHAMBER OF COMMERCE, SINGAPORE".
Terms & Conditions
• Reservations are subject to availability.
• Discounts are not applicable with other promotional discounts or offers, on Eve of Public Holidays, Public Holidays, festive occasions and black-out dates from 14 to 17 September 2023.
• Staff identification card / Company Business Card / E-Membership card must be presented upon payment for verification.
• Offers are valid till 22 December 2023 unless otherwise stated.