15% off at 藝 yì by Jereme Leung, Raffles Hotel Singapore
15% off at 藝 yì by Jereme Leung, Raffles Hotel Singapore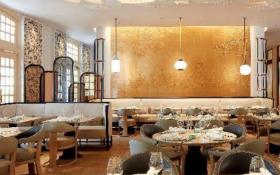 BritCham members enjoy a 15% discount on the total bill at 藝 yì by Jereme Leung, Raffles Hotel Singapore.
About 藝 yì by Jereme Leung
Celebrity MasterChef Jereme Leung, one of the most influential chefs in the modern Chinese culinary movement, returns home to Singapore with 藝yì by Jereme Leung. 藝yì, which stands for art in the Chinese language, awakens your appetite and senses. Alluding to the fine art of Chinese dining, it references centuries of culinary mastery woven into the intricacies of Chinese cuisine presented in the restaurant. Featuring artistic adaptations of provincial cuisine from across the different regions of China, Jereme will be using single-sourced and seasonal ingredients with a contemporary approach to deliver refinement and sincerity.
How to Redeem
To redeem, make a reservation via a corporate email address to singapore@raffles.com and mention "BRITISH CHAMBER OF COMMERCE, SINGAPORE".
Terms & Conditions
• Reservations are subject to availability.
• Discounts are not applicable with other promotional discounts or offers, on Eve of Public Holidays, Public Holidays, festive occasions and black-out dates from 14 to 17 September 2023.
• Staff identification card / Company Business Card / E-Membership card must be presented upon payment for verification.
• Offers are valid till 22 December 2023 unless otherwise stated.