UK agrees new Strategic Partnership with Singapore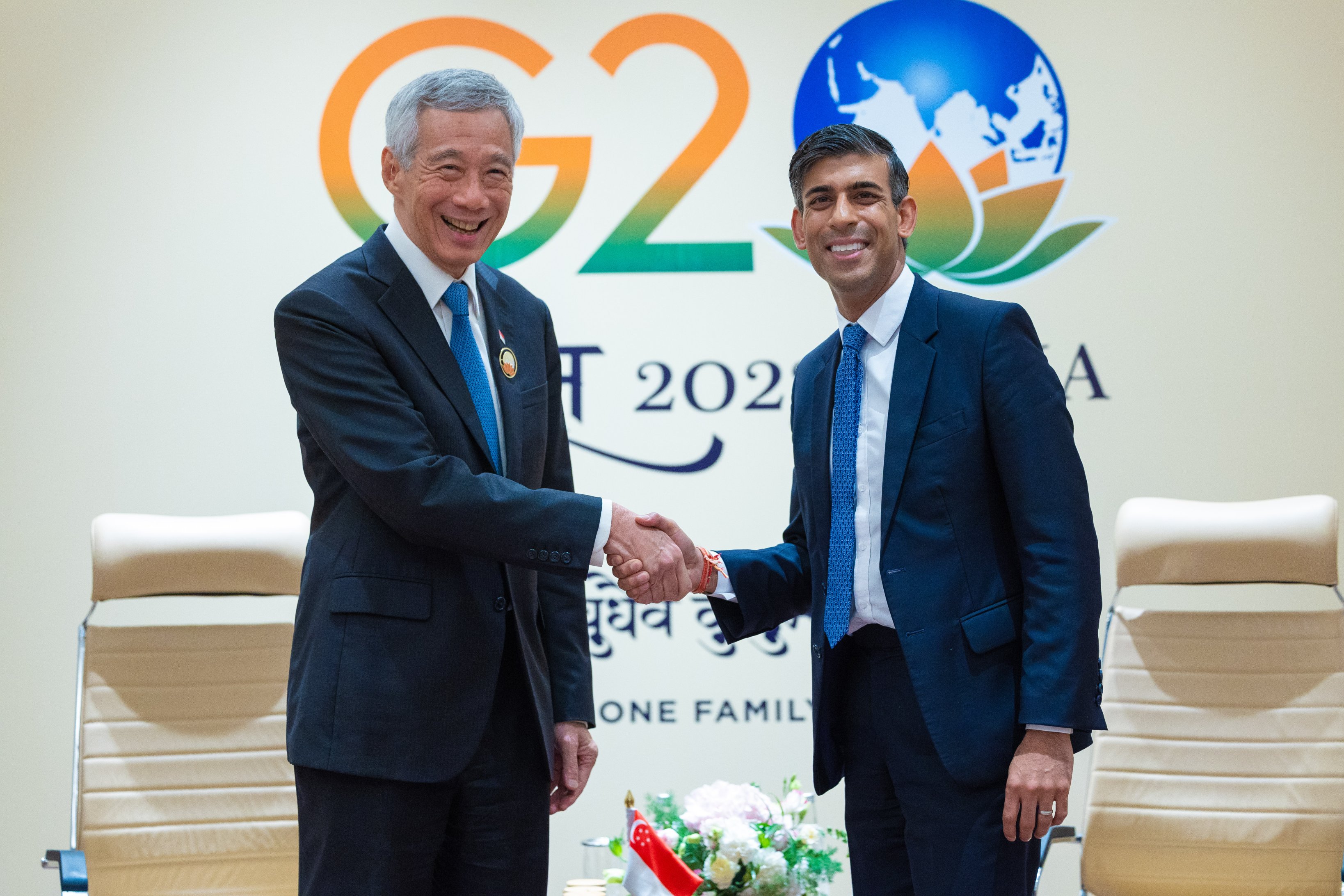 Photo credit: 10 Downing Street
The Prime Minister has signed a new strategic partnership with Singapore to grow the UK's economy and enhance shared security.   
The agreement will harness the UK and Singapore's expertise in new technologies like cyber and AI to create jobs in both our countries.  
The Partnership follows agreements with countries including France, Japan and the US, as PM uses global relationships to deliver on the UK's priorities.
The UK's economy will be bolstered and our security strengthened under a new bilateral partnership with Singapore agreed by the Prime Minister on 9th September.
The Prime Minister met Singaporean Prime Minister Lee Hsien Loong in the margins of the G20 Summit in India to sign a new UK-Singapore Strategic Partnership. This agreement will set the direction of UK-Singapore relations for the next decade, upgrading the UK's trade and investment relationship with one of Southeast Asia's leading economies in recognition of shared expertise and interests in areas like technology and clean energy.
Following the Strategic Partnership, the UK and Singapore will work to conclude a new and modern bilateral investment treaty – the first the UK has negotiated since leaving the EU. This will give Singaporean companies more confidence to invest in the UK and vice-versa, creating jobs and growing both economies.
---
Singapore is one of the UK's closest and most dynamic partners in the region, with the £21 billion trade relationship accounting for 40% of the UK's total trade with Southeast Asia. Singaporean entities have a total of £226 billion invested in the UK. Last year the UK and Singapore signed a first-of-its-kind Digital Economy Agreement, to help businesses in both our countries seize new trade opportunities.
In addition to enhanced economic cooperation, the new UK-Singapore Strategic Partnership will strengthen security cooperation, science and technology innovation, and research and development. This includes collaboration to counter new and emerging threats in domains like cyber, through a first of its kind partnership between Singapore's new Digital and Intelligence Service and the UK.
The Prime Minister said:
I am totally committed to delivering on my priorities to halve inflation, grow the economy while reducing government debt, cut NHS waiting lists and stop the boats. But none of these priorities can be achieved without working with our international partners.

As Prime Minister, I've put the interests of the British people front and centre of my international engagement. I am ensuring that diplomacy delivers.

You have already seen that through deals that will stop illegal migration, make our economy more secure and increase trade with our international partners.

This new agreement with Singapore will take us even further in delivering our priorities and ensure that, as we map the future of the world economy, we are doing so alongside our closest partners.
Earlier this year, the UK also became the first new country to accede to the CPTPP Pacific trade agreement, and is in the process of negotiating further free trade agreements, including a deal with India which would be the first the country has signed with a European country.
British High Commissioner to Singapore Kara Owen said:
The elevation of the UK and Singapore's relationship to a 'Strategic Partnership' demonstrates the scale and importance of our relationship for our economies and security. Singapore is one of the UK's closest partners with a £21 billion trade relationship accounting for 40% of our total trade in the region.

The Strategic Partnership also reinforces our commitment to the Indo-Pacific, as highlighted in the Integrated Review Refresh 2023.
Through the Strategic Partnership we are working together to make an impact on some of the world biggest challenges: Decarbonising our economy and increasing our energy security, harnessing the benefits of tech such as AI, while keeping our populations safe from the new and emerging threats. This cooperation also directly supports our fantastic private sector as they seek new markets and investments.

I'm confident that the UK and Singapore will continue to deepen our cooperation, strengthen our economies, and shape the future.
---
Singapore's private and state-related investors have invested in several of the UK's priority sectors such as energy transition, life sciences and technology.
GIC has been a long-term investor in Europe and the UK since the mid-1980s. Its London office, which opened in 1990, now has more than 200 employees, supporting GIC's investments across Europe. In the UK, GIC has invested across a broad range of industries including real estate, infrastructure and financial services. For example, in 2018 GIC invested in Oxford Nanopore, DNA/RNA sequencing company spun out of Oxford University which listed on the London Stock Exchange in 2021. More recently, in February 2023 GIC partnered with Reef Group and a fund managed by BlackRock to jointly develop Tribeca King's Cross, a life science development with purpose-built laboratories at the heart of London's Knowledge Quarter. Additionally in April 2023, GIC led a funding round of US$129 million into UK software company Quantexa, leading to its unicorn valuation status
Temasek has invested in 21 UK companies from sectors including agri-food, life sciences, financial services, technology and consumer, real estate and services. The investments made total over £6bn and support over 15,000 full-time jobs in the UK.There has been a steady influx of investment and financing supporting our nation's net zero and energy transition ambitions. For example, Sembcorp is developing a 300MWh battery energy storage system on Teesside. When operational, Sembcorp's total battery portfolio of 420MWh will help ensure the resilience of the electricity network and continued growth of renewables to aid the UK's low-carbon transition journey. OCBC's participation in Dogger Bank A and B has also financed offshore wind on the UK's east coast. Existing trade agreements are comprehensive and future-proof. The United Kingdom-Singapore Free Trade Agreement (UKSFTA), the United Kingdom-Singapore Digital Economy Agreement (UKSDEA), and the United Kingdom's accession to the Comprehensive and Progressive Agreement for Trans-Pacific Partnership (CPTPP), will bring about mutual economic benefits.
In technology, CapitaLand Ascendas REIT recently acquired its fifth data centre in the UK for S$200 million. This acquisition complements their data centres around London, deepening and boosting their data centre investments in the UK by 54% to S$569.8 million.
On the UKSDEA, businesses are already benefitting from its world-class provisions on duty-free movement of data, data non-localisation and source code protection that make it easier for UK companies to trade digitally with Singapore.
The UK and Singapore have signed 7 MoUs, covering Digital Customs, Cybersecurity, Digital Identities, and most recently Emerging Technologies and Data, which are designed to support businesses make the most of the agreement.
Both the UK and Singapore have hosted numerous, highly successful trade missions. Following a 'UK Tech in Singapore' trade mission last year, which saw 24 British tech companies hosted in Singapore, British IoT security firm Device Authority and Singapore-headquartered CYFIRMA have inked a partnership to integrate their technology. London Tech Week also gathered tech ecosystem leaders from across the region to explore new opportunities and areas of collaboration.

Further successes of the UKSDEA are demonstrated by three British Chamber of Commerce member companies, LogChain (a cross-border data sharing and workflow platform), Hurricane Commerce (a cross-border data provider) and TMX Global Singapore Global (an end-to-end supply chain consultancy), who signed a tripartite agreement earlier this year to support the digitalisation of trade, supply chains and logistics.
UK companies are participating in UKSDEA supply digitalisation trials, which are helping to prove the value of trade data tech and will make trading cheaper and more secure. 'Shadow transaction' shipments are already being tested as part of these pilots. In June, an international consortium of industry and technical experts completed the world's first quantum-secure cross-border electronic trade document transaction, delivering a verifiable, secure, and legally recognisable solution for future digital trade transactions.
UK companies are also well-placed to capitalise on the 'world first' lawtech specific commitments in the UKSDEA. Three trade missions have been hosted since signature, with the most recent one being in held in Singapore in June 2023.